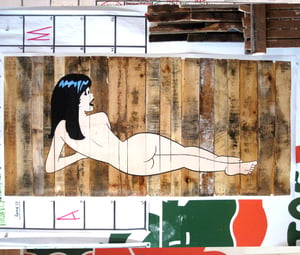 $

55.00
After many moons of preparation, the Teenage Nudes Poster Series has arrived!
Dave Arnold's 2009 exposition Teenage Nudes was a ripping success and a joy to behold, but there were only seven paintings in the series, so seven rich people bought them all, and everyone else had to just deal with it......... until today!!
This is the fourth of seven Teenage Nudes Posters that will be available, and it measures a whopping 24x49 inches.
If you're wondering why a poster costs $55, go try to print less than 5000 posters, see what they quote you, then get back to me.*
* Don't get back to me.